The Indian Institute of Carpet Technology, Srinagar has been established by office of Development Commissioner-(Handicrafts), Ministry of Textiles, Govt. of India and Industries and Commerce Department, Govt. of Jammu and Kashmir with the objective to provide necessary technical support to Carpet Industry of Jammu and Kashmir.
The activities of the Institute revolve around below mentioned portfolios:
Human Resource Development (HRD)




Design Creation & Development (DCD)




Research & Development (R&D)




Technical Services
Human Resource Development
Skill Development Training Program (SDTP)
With a view to provide elementary training on carpet weaving to beneficiaries belonging to backward /economically backward class category, SDTP on carpet weaving is conducted with full funding from National Backward Classes Finance & Development Corporation, on yearly basis .

The post training assessment of trainees is being done by Assessing Body registered with Handicrafts and Carpet Sector Skill Council (HCSSC), Ministry of Skill Development and Entrepreneurship. Besides, Artisan Registration Cards are issued in favour of pass-out trainees by Handicrafts and Handloom Department, (Kashmir) after they qualify the Trade Test conducted by the department.

As many as 1000 beneficiaries (all females) from different districts have been trained till date.
Skill Up-gradation and Capacity Building Training
The Institute has conducted short term Skill Up-gradation and Capacity Building training in different craft concentrated areas.
The objective of such training was to upgrade the skill of weavers and give them necessary inputs on other important subjects like modern method of carpet designing, dyeing, quality certification and need of cluster approach and formation of industrial cooperatives etc.

Silk carpets worth Rs. 50.00lacs, whose minimum price was fixed @Rs. 900/1000/1100 per Sq.ft., weredeveloped by different batches/groups of trainees during their period of training and sold through open auctions.

As many as 9000 persons, majority of them are females, have been trained till date.
Short Term Certificate Course on Designing
06 months certificate course on carpet designing through software is conducted on need basis. The objective of this course is to impart necessary training on carpet and kani shawl designing through software to concerned persons.

By using this modern technology, one can meet fast changing market requirements within minimum possible time.

250 persons have been trained by the Institute from time to time till date.
Design Creation & Development (DCD)
Setting up of Design Studio
The Institute played a pivotal role in the introduction of Design Software for creation of carpet designs which has eased design work enormously as it used to take months together for a group of persons comprising of Naqash (Designer), Taleem Writer and a Taleem Copyist to make carpet design of standard size and transfer the design drafted on graph paper into the coded pattern known as taleem in the local language.
Design Studio equipped with latest digital equipments, including few reputed Design Softwares, has been established in the Institute.
1500 carpet and 300 Kani Shawl designs have been developed in the digital form with the application of different design softwares.
Creation of a Design Bank
With a view to preserve old/traditional carpet designs, which are available in the form of manually written taleem papers (coded pattern), the Institute has created a Design Bank in the digital format for the carpet craft.
The digitization of Taleem papers of more than 400 old/ traditional carpet designs, which were available in manually written taleem papers, has been done till date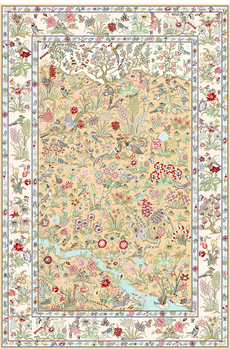 Research & Development (R&D)
Development of new Steel Carpet Loom
In order to improve the working conditions of carpet artisans who are still working on very old and health hazardous wooden looms, the Institute, in collaboration with J&K SICOP, has recently developed a new steel carpet loom with inbuilt seating arrangement.
Number of prototypes were developed and on the basis of necessary testing and trial runs conducted by Institute, followed by inspection by Technical Team including stakeholders, one prototype of loom was found suitable for introduction in the carpet Industry.
Registration of Handknotted Carpet under GI Act
In order to provide legal protection and safeguard against use of registered Geographical Indication by others, the Institute, after putting in extensive hard work for more than 05 years, finally succeeded in registering Kashmiri Hand Knotted Carpet under Geographical Indication of Goods Act, 1999".
The Institute shall be introducing QR Code mechanism, first of its kind in the Country, for the purpose of Certification& labeling of Hand-knotted Carpets produced in Kashmir under Geographical Indication of Goods Act 1999.
For this, the necessary up-gradation of existing laboratory by way of procurement of different testing equipments, Development of Online Cloud based QR Management System alongwith procurement of specialized destructible labels required for testing, certification and labeling of handknotted carpets under GI Act is in progress.
Study on utilization of locally available Reeled Mulberry Silk for carpets
After thorough analysis/research with regard to quality parameters of Reeled Mulberry Silk yarn for carpets, two silk carpets (Medium/Large) were developed and the same were displayed during the Buyer Seller Meets/Exhibitions. The quality of these silk carpets was found at par with the quality of Iranian carpets.
While appreciating this initiative, thestakeholders expressed the hope that such step will go a long way in boosting not only the carpet industry but also the silk industry of J&K. However, they are reluctant to use this quality of reeled silk for carpets due to its higher cost. As such, detailed study is required to be conducted by the concerned Departments/Central Silk Board/CSR&TI for bringing down the cost of reeled silk yarn to be used for carpets.
Standardization of the process of carpet washing
In order to streamline the process of carpet washing which has remained unchanged since centuries together and to standardize the use of chemicals and auxiliaries to improve the finishing of carpets, a detailed research study was conducted by the Institute.
During the study of existing process, samples of washed carpets (Silk /Woolen) of different qualities were checking for analysis purpose just to ascertain the impact of excessive use of chemicals/ auxiliaries.
After completion of the project, findings of study were shared with stakeholders, comprising of Washer-men, Manufactures, Artisans etc, & they were advised to adopt the standardized process/method of carpet washing for best results.
Technical Services
Sample dyeing (with Azo-free dyes) facility of silk yarn in the hank form, with lot size of 5 Kgs, is being provided with the help of Arm Spray Hank Dyeing Machine so that dyeing is carried out under controlled conditions for achieving better results.

Chemical Tests such as color fastness to Rubbing and Washing to check the quality of dyeing on given raw material are also conducted on need basis.

The facility of natural /vegetable dyeing of Pashmina shawls, stoles has recently been introduced by the Institute.

The facility of Design Workstations, installed with Carpet Design Software, is available for trained persons on nominal monthly rentals at the Institute.

Design Library enriched with Books/ Magazines/ Journals of international fame and other related publications including documentation reports of various studies, projects conducted/implemented by the Institute is available for reference and use.
Other Initiatives
Setting up of Micro Carpet Cluster in Anantnag District.
National Backward Classes Finance & Development Corporation (NBCFDC), Ministry of Social Justice and Empowerment, Govt. of India has accorded approval to the proposal of this Institute under "Technology Up-gradation Scheme" for 20 beneficiaries, falling under economically backward class category.
The objective of the scheme is to provide requisite infrastructural and handholding to concerned Industrial Cooperative of EBC's so that they can work independently. This initiative is expected to improve their income as they can sell their products (silk carpets) on their own terms & conditions.

The implementation of the project is in progress at Soafshali area (Kokernag) of Anantnag District wherein 20 Carpet Weavers who have formed one Industrial Cooperative In the name of Ahanger Carpets Industrial Cooperative Ltd.

Under this project, in addition to Skill Up-gradation training on Silk Carpet Weaving, 05 Modern Carpet Looms alongwith Sitting Benches, Raw Material, Working Tools and other necessary accessories/items have been provided free of cost to concerned members of Industrial Cooperative. Further, with a view to provide better working conditions to the concerned beneficiaries a Big Hall installed with Modern Carpet Looms whose monthly rentals for a period of 03 years shall be paid under the project, has been made available.